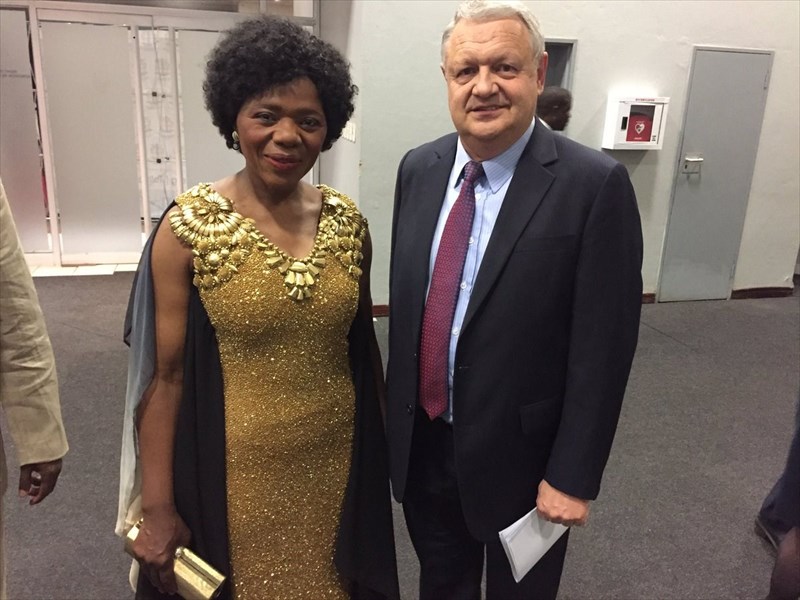 Advokaat Thuli Madonsela, voormalige Openbare Beskermer (OB) van Suid-Afrika, het vir sewe jaar haar taak pligsgetrou uitgevoer presies soos die land se Grondwet van haar vereis het. In die tyd het sy 'n geliefde en gerespekteerde persoon vir alle regdenkende inwoners van die land geword.
Sy het te alle tye haar werk vreesloos en met groot kundigheid uitgevoer en het met haar vertrek 'n totaal onbeskimmelde kantoor aan haar opvolger nagelaat.
Hier volg die volledige toespraak wat dr. Pieter Mulder, leier van die VF Plus, Woensdagaand by haar afskeidsdinee gelewer het:
"In the South African constitution Section 182 that defines the functions of the Public Protector, reads as follows:
The Public Protector has the power to investigate any conduct in state affairs, or in the public administration in any sphere of government, that is alleged or suspected to be improper…"
(b) to report on that conduct; and
(c) to take appropriate remedial action.
That is exactly what adv. Thuli Madonsella did for seven years.
Why then this special message and word of thanks from myself on behalf of the Freedom Front Plus?
Because doing what the constitution requires of the Public Protector, and doing it without fear or favour, is not that simple and not without risks.
Voltaire, French writer and philosopher said: "It is dangerous to be right when the government is wrong" - Voltaire
"Dit is gevaarlik om reg te wees -- as die regering verkeerd is" – Voltaire
When do you know there are problems in a country or a government?
When you see corruption being rewarded and honesty becomes a self-sacrifice
When you see money flowing to those who deal, not in goods, but in favours.
When you see that men get richer through graft and pull than by work.
Power tends to corrupt, and absolute power corrupts absolutely, as we know.
Adv. Madonsela gave us hope during difficult and troubling times. Hope that good in the end will conquer evil.
I believe that Prof. K.A. Busia from Ghana has a message for South Africa in these days, 22 years after 1994. Prof Busia was Prime Minister of Ghana from 1969 to 1972 and he helped to restore civilian government to the country following military rule. He said:
"A democracy in the last analysis depends on the character of individual men and women and the moral standards of the community. Rules governing elections may be made; freedoms may be provided in constitutions; and Bills of Right may be passed; they will make arbitrary acts easier to resist publicly, but they will not by themselves secure democracy. There are other rules which are unwritten, such as honesty, integrity, restraint and respect for democratic procedures."
Adv. Madonsela represents these values.
Adv. Madonsela, was appointed as Public Protector 19 October 2009 with the unanimous support from the multi-party National Assembly.
With the announcement of her appointment, president Zuma said that adv. Madonsela "will need to ensure that this office continues to be accessible to ordinary citizens and undertakes its work without fear or favour".
This is exactly what she did.
Why was she successful?
Because adv. Madonsela likened her role as Public Protector to the Venda chief's paternal aunt known as the makhadzi, a non-political figure who "gives the people a voice while giving the traditional leader a conscience".
But in the process she learned the lesson we as political leaders know so well: The higher you climb on the mountain, the harder the wind blows. The test as a leader is whether you continue to climb or become scared and shy away from your responsibilities.
She did not shy away. She exercised her powers in a competent and courageous manner. The word most used in describing her tonight was "courage" as she became a true crusader of anti-corruption.
Was she put under pressure and did people try to intimidate her?
Of course yes. She was called: "populist in her orientation." She was publicly accused of "acting like a counter-revolutionary" and working for the CIA. This was fortunately publicly withdrawn.
As a courageous woman she stood tall and spoke the truth to authority against all manner of intimidation.
I repeat Voltaire, French writer and philosopher when he said: "It is dangerous to be right when the government is wrong".
My wife is a teacher and she has this quote against her classroom's wall: "Anything women do they must do twice as well as men to be thought half as good. Luckily this is not difficult."
This is more than true in adv. Madonsela's case.
As a farewell quote I want to quote the well-known American president Abraham Lincoln:
He said "In making governmental decisions…I desire to so conduct the affairs of this Government and Administration that if, at the end, when I come to lay down the reins of power, I have lost every other friend on earth, I shall at least have one friend left, and that friend shall be down inside of me."
The Freedom Front Plus wishes her well for the rest of her career. We thank her for a job well done. She has served South Africa well.
I would have liked to thank her in Afrikaans because I can express myself much better in my first language but because of the audience I did it in English.
Maybe I can conclude on a lighter note with the story of the very Afrikaans town councillor and mayor of a small North West town – dorpie - who had to thank the visiting minister in English. In Northwest where I come from we say that our English is only for personal use, not public use. The mayor had a very difficult wife. A wife that was very important in her own eyes.
The mayor concluded his speech by saying "I want to thank the minister from the bottom of my heart" His wife kicked him under the table and whispered: "You must thank the minister on my behalf as well."
A bit rattled the Afrikaans mayor then said: "I want to thank the minister from the bottom of my heart and my wife's bottom too."
On behalf of the Freedom Front Plus I want to thank adv. Madonsela from the bottom of my heart and my wife's and the rest of the party's bottom too!
Adv. Madonsela: Sterkte vir die toekoms en mooi loop.
Kontaknommer: 083 419 5403 / 082 674 6670