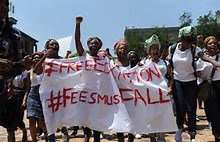 There is no such thing as free higher education. There could well be a perception that it is free if students do not pay tuition fees, but this is not so as somebody will in the end, and it that is the taxpayers, Dr. Pieter Groenewald, Leader of the FF Plus said.
Dr. Groenewald says universities are expensive, and the ANC government is to blame for this as it did not timeously and properly adjust the subsidies for universities, and that is why these institutions are stuck with a problem of having to ask much more to accommodate students.
He said the government must ask itself why it fell behind with the subsidies, also with regards to inflation.
"Free higher education is not attainable. Even wealthy countries cannot afford it. The FF Plus, however, has sympathy with tuition fees not being increased unnecessarily, so that higher education does not become unaffordable. It is becoming an ever increasing problem in the country.
"Students should be offered the opportunity to qualify themselves properly. To obtain the funds to do this, economic growth has to take place, and education in South Africa is currently a huge restraint to this.
"Research has shown that only 50% of all learners starting school proceed to grade 12. Of these, only 12% qualify to go to university, and eventually only 5% of school beginners obtain a degree.
"Under these circumstances, where young people cannot go to university, and the poor pass rate of those who do attend university, the economy cannot grow, and free higher education will not be possible," Dr. Groenewald said.
Contact no.: 083 627 4397 / 083 419 5403