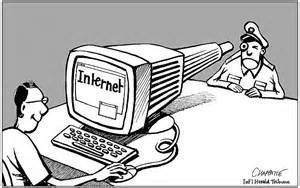 The fact that South Africa has tried at the United Nations (UN) to make internet censure enforceable is worrying when considered against the backdrop of the proposed legislation with which the government clearly has the restriction of freedom of speech in mind, Dr. Pieter Mulder, FF Plus leader said.
South Africa, along with countries such as China, Russia, and Cuba, voted last Friday at the UN against a resolution aimed at enshrining freedom of speech on the Internet, while more than 70 countries supported it.
South Africa and its allies proposed that the resolution had to be changed that the free access to the internet for its citizens had to be restricted. These countries proposed that the term 'Freedom of Expression' should be removed from the resolution.
According to Dr. Mulder, it is especially worrying that South Africa's representative at the UN's human rights council, Ncumisa Notutela, had said during the session that South Africa's constitution does enshrine freedom of expression, but the exercising of the freedom of expression and opinion is not an absolute right.
He said that the bill which could restrict freedom of speech in South Africa is the Cyber Crime and Cyber Security Bill, which was announced last year. The aim of it would be to restrict internet freedom and the possession of information for journalists in particular.
"There is currently also legislation in parliament which would give more power to the president and minister in terms of the Broadcasting Act.
"The Film and Publication Board (FPB) proposed regulations last year which place a restriction on the free posting of digital content on the internet, even by individuals. This Bill and regulations are still before parliament, and the FF Plus will oppose it in any way possible.
"The reason behind this is simple: An anxious cat makes anxious leaps, and this is what the ANC is doing at present.
"With regards to South Africa, the genie of the freedom of speech was released in the era after 1994 with the assistance of opposition parties and South Africa enjoys wide freedom of speech and information in the media and social media. To reverse this will take drastic steps by the ANC, which will result in serious opposition from the FF Plus and the public," Dr. Pieter Mulder, says.
Contact no.: 083 419 5403 / 082 674 6670