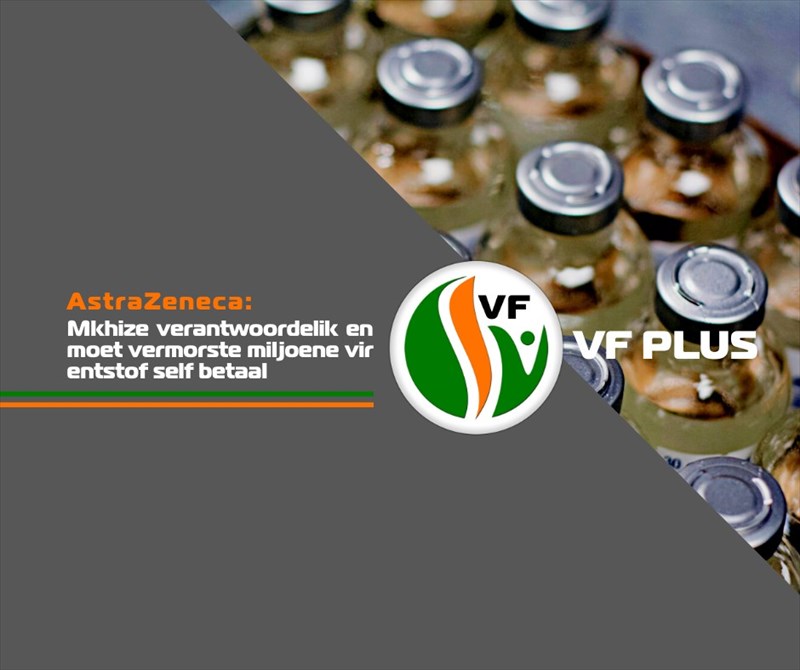 The Minister of Health, Zweli Mkhize, must take full responsibility for the debacle with the AstraZeneca Covid-19 vaccine and must be held liable for the R120 million which was lost.
The government had to halt the roll-out of the vaccine over the weekend seeing as it is not affective against the South African variant of the virus.
Approximately R120 million was spent on procuring the 1,5 million doses of vaccine. It now appears that the money might as well have been flushed down the drain along with the vaccine.
The FF Plus is of the opinion that the government dragged its feet in procuring the vaccine last year. If the relevant discussions had been held in time, the tests for the efficacy of the vaccine could have been conducted with the outbreak of the 501Y.V2-variant of the virus in November 2020.
It would have ensured that the vaccines' efficacy was determined before any money was spent on it. The government dragged its feet during negotiations to obtain the vaccine and then in January 2021, being under immense public pressure, it procured the AstraZeneca vaccine from the Serum Institute of India in haste.
Early last month, the FF Plus warned that the government's sole right to procure and distribute vaccines could be problematic given its incompetence and the extensive corruption, in which various ANC politicians and officials are implicated, that occurred with the procurement of personal protective equipment.
If the private sector had been allowed to procure the vaccines, South Africa would not have been in this crisis and would have been saved the embarrassment.
The FF Plus's prediction that the government simply does not have the ability to manage this programme has now become a reality.
This mess in which the government currently finds itself, which also puts human lives in jeopardy, serves are proof that the National Health Insurance (NHI) will not succeed under the ANC government.
The Minister of Health must be held liable for the amount of R120 million that was lost seeing as South Africans cannot afford to throw money in the water.