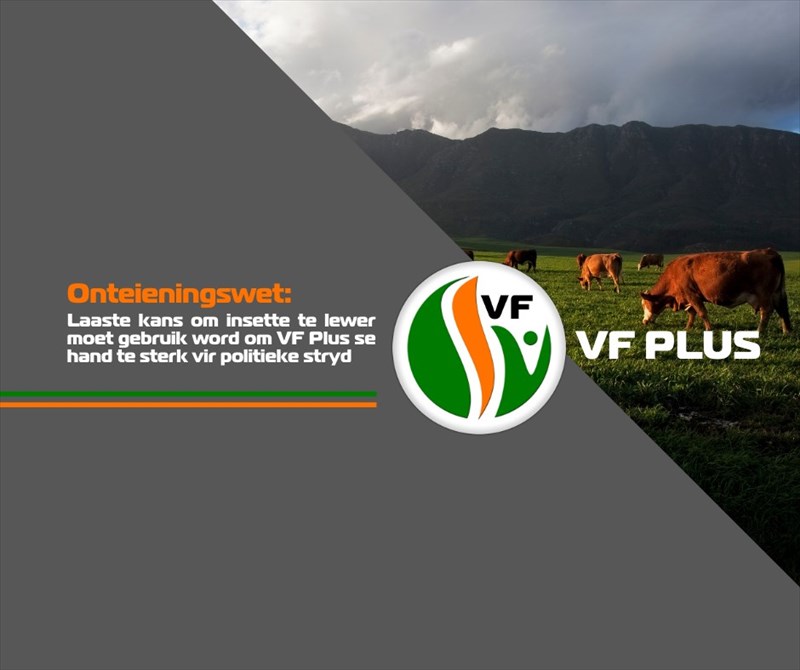 The FF Plus is calling on the public to make use of the opportunity to comment on the Draft Land Expropriation Amendment Bill before the final deadline of 28 February this year.
The greater the public opposition against the Bill, the more the FF Plus's hand will be strengthened for the political battle against the adoption of the Bill.
In essence, the law will seriously detract from all property rights in South Africa. It is important to remember that it not only applies to land, but to all private property; moveable, immoveable and even intellectual property. And it is no secret that the ANC is coveting land and pension funds.
Use this link to comment and provide input on the Bill.

Regarding land, it is obvious that the ANC government wants to use expropriation without compensation to give new momentum to its failed land reform programme. President Cyril Ramaphosa expressed that it must be done to bring about prosperity and progress for the masses.
The truth, however, is that expropriation without compensation, along with Black Economic Empowerment, is destroying any chances of economic prosperity. The FF Plus is opposed to any form of expropriation for land reform purposes, especially expropriation without compensation.
The government will not transfer the title deeds of the land to the new owners, thus, the individuals who receive land in this way will essentially be mere "occupants" of the land. The land remains under the patronage of the state.
Therefore, it is clear that a lust for political power is the real motivation behind the law and not a genuine desire to empower the people.
The FF Plus has always held the view that land reform must follow the principle of willing buyer, willing seller. If necessary, a court must determine the compensation and rule on the fairness of the expropriation.
This Bill authorises the relevant minister to solely determine the compensation and only after that the person whose property is expropriated can go to court to dispute the decision.
In the Bill, there are many technical aspects hiding behind vague ambiguities which may be exploited for the sake of land reform even though they seem innocent enough if expropriation is used for normal reasons (like building a road).
The ANC cannot be trusted with such an important law where it has the sole authority to decide how its vague definitions should be interpreted. We must not be under any illusion when it comes to the ANC government's intention to amend Section 25 of the Constitution to allow for expropriation without compensation.
.