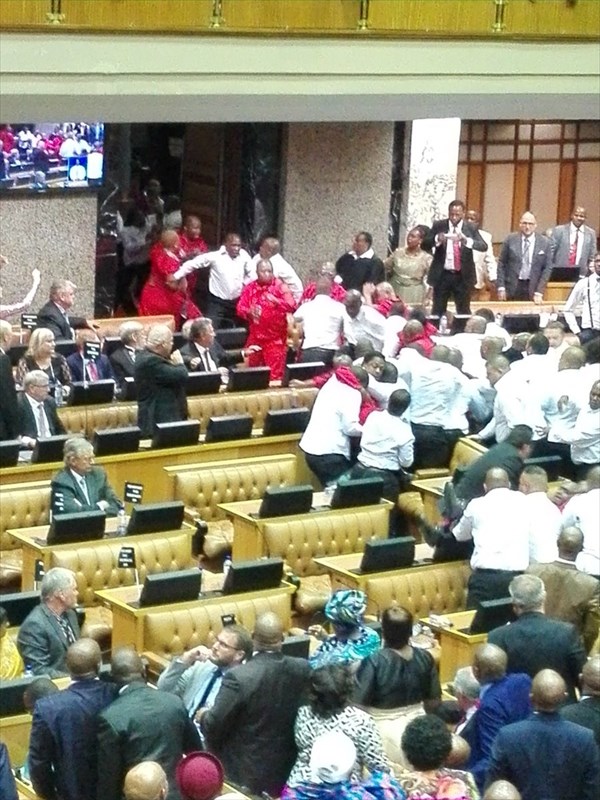 Circumstances in the National Assembly today reached such a chaotic low point as a result of the EFF and some of its supporters in the public gallery, that the FF Plus had reached a point where it could not but to walk out, Dr. Pieter Groenewald, Leader of the FF Plus said.
A type of teargas was also thrown in amongst the members of the public in the public gallery area by supporters of the EFF. The safety of the guests was threatened by it. This action in Parliament confirms the fact that South Africa has degenerated into a banana republic.
In the Assembly, the presiding officers could not control the calculated chaos which carried on unabated for more than an hour. It eventually led to chaos and vandalism, where chairs were broken and water bottles and hard hats were hurled around.
If such misconduct takes place in the highest chamber of the country which has to serve as an example for all South Africans, how can it be expected of the public to obey the laws and rules of the country?
The ANC and EFF have to take full responsibility for this vandalistic actions in Parliament.
The FF Plus cannot associate itself with such circumstances inside Parliament. It is an embarrassment, and the FF Plus therefore left the Assembly Chamber.
Contact no.: 083 627 4397 / 083 419 5403