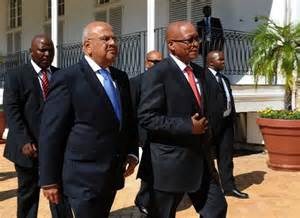 The decision of the Hawks to serve a summons on the finance minister, Pravin Gordhan, shows a total lack of presidential leadership and holds serious complications for the country's economy, Dr. Pieter Mulder, the FF Plus leader, says.
Dr. Mulder says it is, in particular, the consistent lack of leadership of president Jacob Zuma regarding the matter that has contributed to the current confusion.
"What is is happening now has drawn a line through the recent visit abroad by minister Gordhan, the Reserve Bank, and the country's leading business leaders to draw investors to this country.
"Minister Gordhan's message to investors was that he is expecting economic growth of more than 1% for South Africa in 2017. With the current debacle, it appears that this will no longer be obtainable. The fact that the rand had lost at least 40 cent of its value against the American dollar this morning already shows the kind of damage that has already been done.
"The credit rating agency Standard & Poor's recently warned that it is mainly the political tension and policy uncertainty of the ANC government that is thwarting economic reforms and development in the country.
"It is indeed true that there is no coordination or policy unity from the side of government regarding the country's economy. This does not bode well for the December ratings," Dr. Mulder said.
Contact no.: 083 419 5403 / 082 674 6670