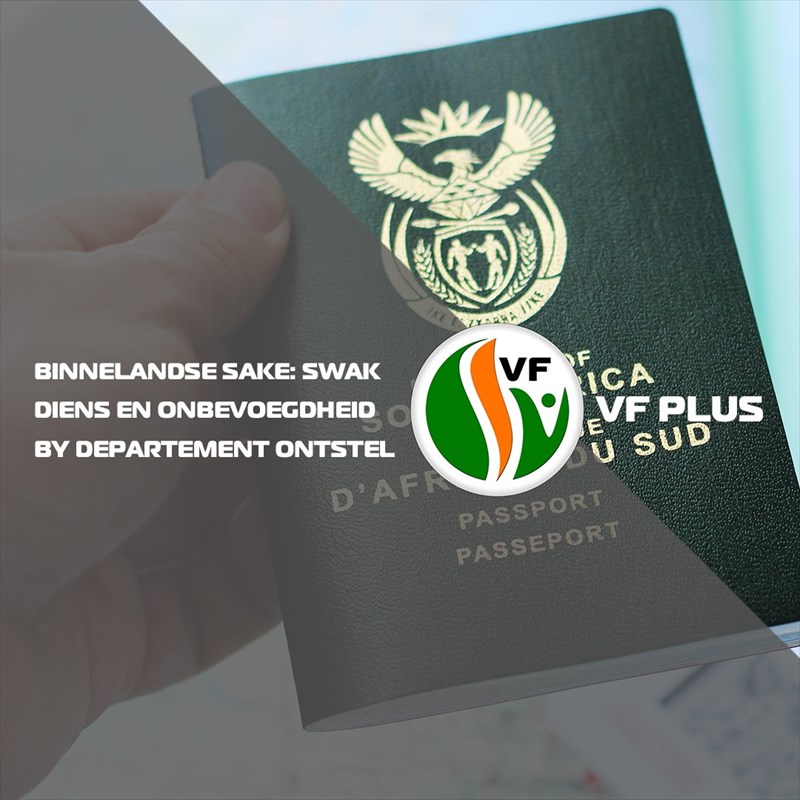 The poor service and incompetence at the Department of Home Affairs are unacceptable and a pressing problem that is causing great frustration among all South Africans.
The FF Plus is inundated on a daily basis with queries from desperate South Africans from all parts of society who simply do not get any feedback from the Department of Home Affairs regarding their applications for travel documents.
In some cases, applications for the renewal of South African passports take as long as seven months to be finalised and, thus, these applicants are forced to either postpone or cancel their travel plans at great expense to them.
On top of that, the telephone number as indicated on the Department of Home Affairs' official website sometimes rings for more than an hour on end before someone answers the call.
The excuse usually offered for the poor service is that there is a serious backlog with work that must still be finalised. The FF Plus does not find that excuse acceptable. The Department is failing South Africans who have the right to renew their existing passports or apply for a new one.
In practice, a large number of applicants also receive no feedback whatsoever regarding their visa applications and they too are then required to either postpone or cancel their travels. The FF Plus wants to thank the few senior officials who regularly step in on request to sort things out in critical situations.
As protector of the identity of South African citizens, the Department has a constitutional duty to issue, among other things, identity documents, passports and South African visas. Sadly, the Department is failing miserably and letting South African citizens down.
The current state of affairs is totally unacceptable and must be addressed urgently. The FF Plus will see to it that the problem is attended to.