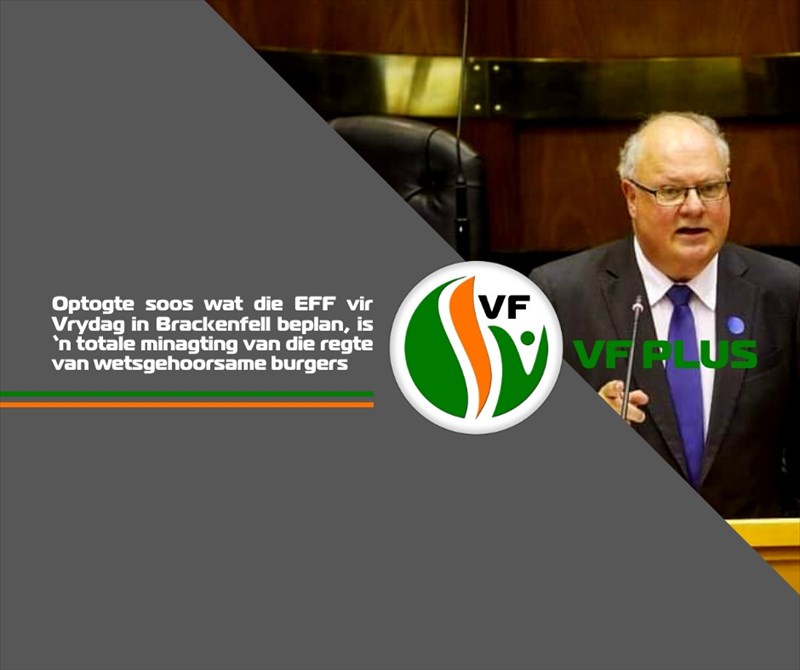 Protest actions, like the one that the EFF is planning at Brackenfell High School this Friday, demonstrate utter disrespect for the constitutional rights of law-abiding citizens who do not want to associate themselves with it.
It is alarming that the EFF has already threatened by means of an official party tweet to "bring Brackenfell to a standstill" and to "ensure that nothing operates" and that they will take action against anyone who stands in their way.
The school has approached the court to try and stop tomorrow's protest. The application was not granted, but the court did rule that only a hundred people are allowed to participate.
The FF Plus will monitor the situation to see whether the police will enforce the court order. If more than a hundred people show up to protest, the police must ensure that the protest action does not take place.
What is currently happening at Brackenfell is reminiscent of what transpired during EFF protest actions at Overvaal High School a few years ago.
At the time, the FF Plus tabled a private member's bill aimed at prohibiting protest actions that may cause any disruptions at schools.
It was not successful and the party will consider the possibility of tabling such a bill again seeing as it is absolutely incomprehensible and unacceptable that any protest actions are allowed to take place near or at schools, particularly during exams.
It is also difficult to see how any court can expect any protest actions of the EFF, which has a proven record of being violent, to be peaceful – which is indeed one of the requirements of the Constitutional Court.
The authorities have now called on the public to avoid the area of Brackenfell High School where the protest is to take place. The FF Plus wants to echo this sentiment. If the EFF were to show up to a deserted school and empty streets, the red balloon will quickly deflate.
Confrontation is exactly what they want. Without it, they are left deflated. The FF Plus will ensure that the court order is enforced and will lodge complaints if it is not.