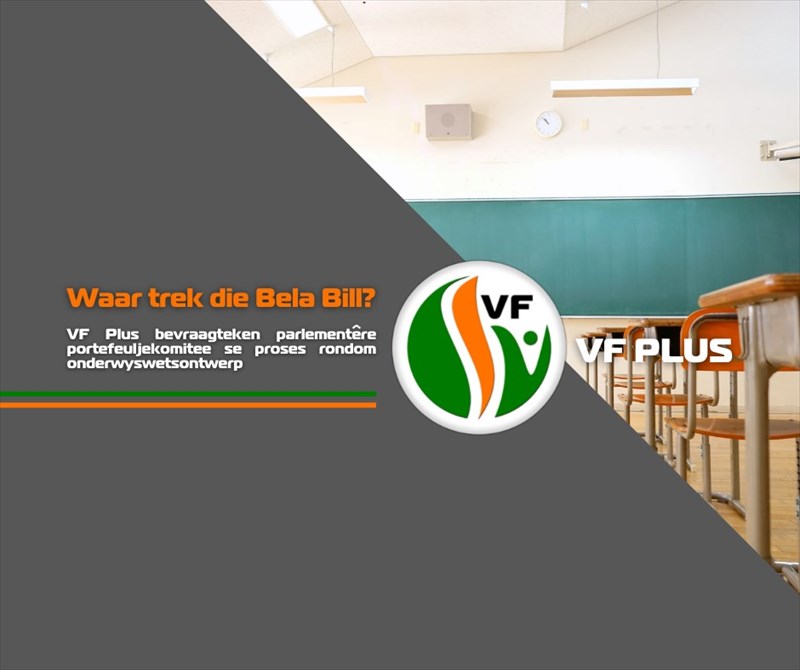 This Bill, generally known as the "BELA Bill", was launched in 2017 already. Its main aim is to amend the South African Schools Act of 1996. From the outset, its contents was controversial because it transfers important functions from school governing bodies to provincial heads of department.
Parents and other stakeholders can support the FF Plus's action against the legislative amendment by visiting the following link: (https://forms.gle/fUDpmpnn7KEebYxV8). The Bill's full text can be accessed here: (https://www.parliament.gov.za/bill/2300398)
Numerous individuals and institutions took part in the public participation process on the Bill and the Minister of Education, Angie Motshekga, submitted a new version of the Bill to the Portfolio Committee at the end of 2021. Committee members brought up so many critical questions arising from their respective constituencies that the Committee decided to launch its own public participation process as well.
On 22 March this year, the Committee was informed that a designated WhatsApp number, an e-mail address and a Google form would be made available to enable members of the public to voice their opinions. The process was supposed to commence on Friday (25 March) and close on 30 April at 17:00.
Seeing as the FF Plus has strong views on the Bill, the party also launched its own campaign in this regard. The links for the Portfolio Committee's process were sent to various other institutions too.
These institutions were, however, informed that the relevant channels have not yet been opened even though they are already functional. After making enquiries, the FF Plus was informed that the participation process must still commence and that Committee members will be informed when it does.
Today (Thursday, 14 April), Committee members were informed of a meeting to be held on the 19th of April where progress as regards the participation process will be discussed. That is just seven days before the initial deadline.
When information is scarce, one tends to expect the worst. Will the participation process be too short for meaningful participation? Will the ANC withdraw the Bill – as the FF Plus suggested? This legislation affects every family and every community in South Africa and, therefore, it is important that all related processes are above reproach.
The FF Plus has already explained the two main reasons why the Bill is unacceptable: It centralises the power to determine a school's nature from a democratically elected school governing body to a provincial head of department; and it fails to take into account the irreversible developments that have taken place with regard to home-schooling, micro-schools, online teaching and other technological advancements in the educational field – thus, the legislation is outdated before even being promulgated.
Meanwhile, the FF Plus will continue with its own campaign under the slogan "Ring the Bell on the BELA Bill".