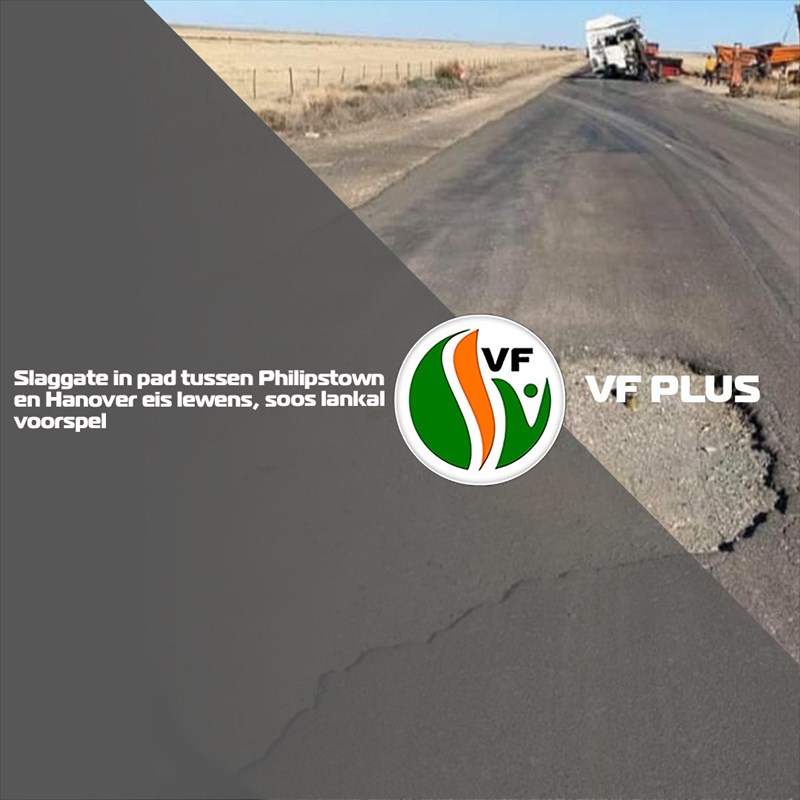 According to social media reports, potholes in the R369 between Philipstown and Hanover in the Northern Cape claimed two lives on Tuesday. A Facebook user, who posted photos of the scene of the accident as well as the massive pothole, alleges that two truck drivers were killed in a collision. According to the individual, one driver allegedly lost control of his vehicle after he hit the pothole and then he slammed into the other truck.
The FF Plus contacted the police, but was unable to confirm whether or not this collision took place. The police's spokesperson in Philipstown merely said that he could not confirm that the incident occurred, but that he would have known about it if something like that had happened. The police in Hanover stated that they are indeed aware of the accident, but that it had occurred in Philipstown's jurisdiction.
The evasive responses are probably owing to the fact that the poor condition of the road had been reported repeatedly, but unsuccessfully, to various levels of government. The road forms part of the route that literally thousands of trucks take every week to transport ore from mines in the Kathu-Postmasburg region to Port Elizabeth for export. For years, this has reportedly been the preferred route for trucks seeing as there is no weighing equipment with which to police overloading. And yet there are numerous weigh bridges owned by farmers and agricultural companies in the area that could easily have been accredited and used for that purpose.
The outcome of overloading and neglect is a road that could claim the lives of ore transporters as well as local residents. This does not only highlight the poor upkeep of roads in the country, but also the necessity of better railways and the importance of local value addition to mining products.
The FF Plus would like to contribute by acting as liaison between the provincial authorities and owners of existing weigh bridges on the route.

Contact details: 0074 166 5540