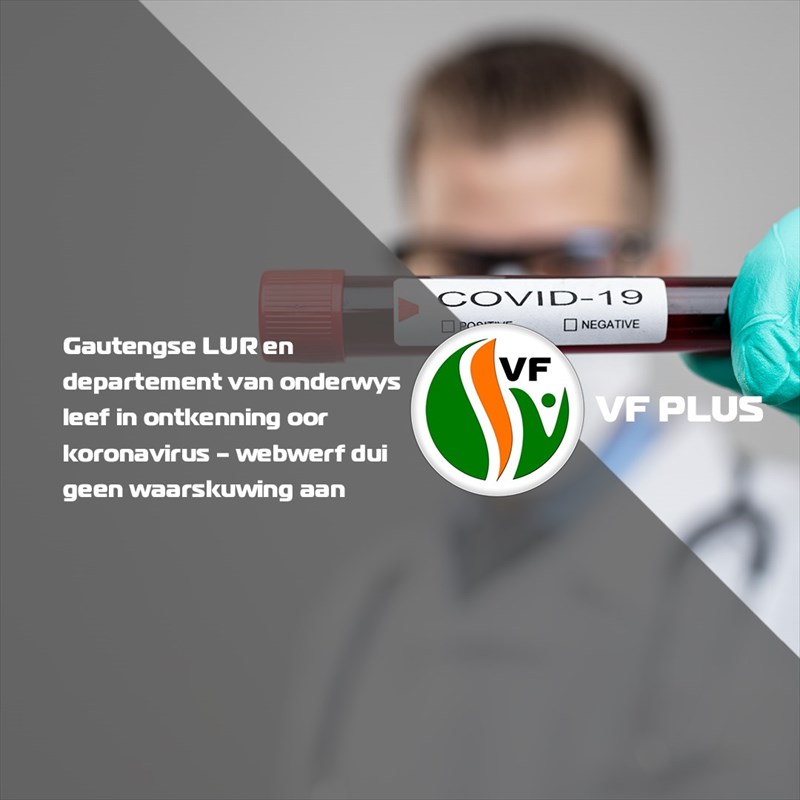 The FF Plus is concerned because the Gauteng MEC for Education, Panyaza Lesufi, and his Department have not yet issued any official information to empower schools with an emergency plan to deal with the possible spread of the Coronavirus. The party is calling on Lesufi to immediately issue a protocol aimed at protecting learners and teachers.
In the context of the spread of the Coronavirus worldwide and now also in South Africa as well as the World Health Organisation's official declaration that it is a pandemic, one school in Gauteng and another in the Western Cape have already temporarily closed. Various other schools in the Western Cape are also planning to close.
Unfortunately, schools, like any other public places where people gather, are conducive for the spread of the virus. Thus, schools must be empowered with information from the government that will enable them to restrict the spread of the virus as far as possible and to take action should the virus break out in schools.
Thus far, there is no sign of any official information issued by Lesufi or his Department.
In fact, the Department's website makes no mention of the dangers of the virus and that is extremely worrying. There is a link on the website named "Warnings", but the only content displayed when one clicks on the link is: "There are no warnings for this department". The link to the website is: https://www.gauteng.gov.za/Departments/DepartmentWarningList?departmentId=CPM-001004
This is extremely disconcerting and goes to show that the Gauteng Department of Education is negligent when it comes to the protection of learners. This attitude had already become evident with the Hoërskool Driehoek tragedy and the subsequent exposure of the poor and inadequate maintenance of numerous schools' infrastructure.
The Schools Act clearly stipulates that the government – and by implication, the MEC and his Department – are accountable for the safety of schools and learners and, thus, Lesufi must take up the responsibility to protect schools against the Coronavirus.
Seeing as no action has been taken, the FF Plus will send an official letter to Lesufi urging him to take action immediately.

Contact details: 071 604 9498