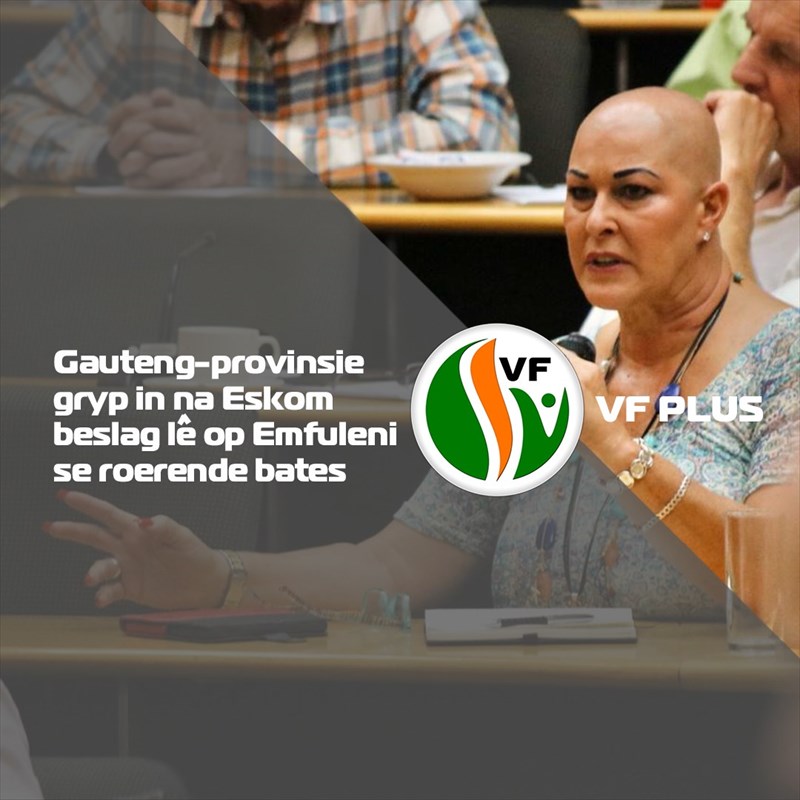 The FF Plus welcomes the intervention of the Gauteng MEC for Cooperative Governance and Traditional Affairs (COGTA), Lebogang Maile, at the Emfuleni Local Municipality (Evaton, Sebokeng, Vaal Oewer, Vanderbijlpark, Vereeniging) after negotiations between struggling municipalities and Eskom.
The Emfuleni Local Municipality made a new payment agreement with Eskom to pay off the Municipality's outstanding debt of R1,8 billion. Yesterday, the Municipality paid an amount of R50 million to Eskom and it furthermore undertook to pay Eskom R183 million per month until the outstanding debt is cleared.
This follows Eskom's seizure of the Municipality's movable assets because it did not comply with its previous payment agreement.
Eleven other municipalities in Gauteng, including Merafong (Carletonville, Fochville, Wedela) and Rand West (Randfontein, Westonaria), also participated in the negotiations. The Merafong Municipality owes Eskom R377 million and Rand West owes R355 million.
The municipalities keep promising to pay off their outstanding debt to Eskom, but then they fail to honour their payment agreements.
The FF Plus holds Maile accountable for the fact that the Emfuleni Municipality is so heavily indebted and that service delivery to residents has been affected.
Maile and his predecessors should have called the relevant municipal managers to account long ago as they were underperforming in terms of the municipal financial regulations. However, after the meeting Maile confirmed that none of the municipal managers will be dismissed.
This once again goes to show that the ANC government's mismanagement is destroying local economies and infringing upon residents' right to service delivery.
The FF Plus will not hesitate to expose the corruption, mismanagement and incompetence of officials in managerial positions in the interest of the people of Gauteng.

Contact details: 071 604 9498