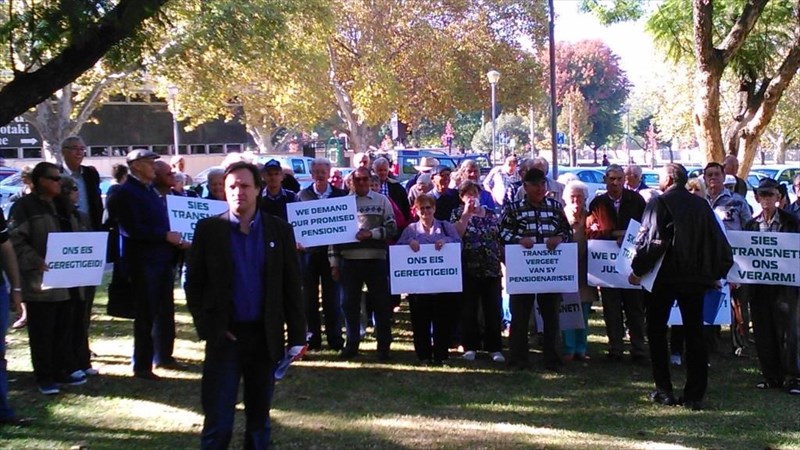 Transnet's pensioners today held a successful march to the Union Buildings in Pretoria where a petition was handed to President Jacob Zuma's office about the scandalous circumstances of pensioners, Adv. Anton Albers, the FF Plus' parliamentary spokesperson on Transport says.
Adv. Alberts says the people's desperate circumstances arose due to the restricted 2% increase which pensioners receive annually while living expenses have risen much faster.
He said about a hundred pensioners with an average age of 75 participated in the march.
It was a unique event as it is usually younger working people who protest in the streets to have their voices heard and not the aged who act out of necessity.
The march would have been much larger but many could not attend due to their age or due to a lack of funds.
Adv. Alberts handed a petition to the president's office at the Union Building on behalf of the pensioners, in which he is asked to intervene and to see to it that an urgent cash injection is made into the pension funds so that Transnet's thousands of pensioners may have a dignified retirement.
"The petition also clearly states that a court case of R80 billion is currently pending due to the maladministration of the funds. It is the largest claim in South Africa's legal history and should it succeed, billions of rand will have to be paid out which will hurt the state and Transnet.
That is why the president was asked to intervene now and create a win-win situation to supplement the funds or face the alternative where the state will have to pay out billions of rand which will have to be diverted away from other priorities.
"The pensioners asked the FF Plus three weeks ago to organise and facilitate the march. Because the FF Plus is already involved in Parliament on behalf of the pensioners to find a solution for their plight, we acceded to their request.
"We are happy about the number of participants, despite the people's age and we can only hope and trust that the president will consider their petition. If not, we will see him in court and we believe the pensioners will walk away as victors from the struggle," Adv. Alberts says.
Contact no.: 082 391 3117 / 083 419 5403